Meme marketing isn't a groundbreakingly New concept for advertisers, and advergames go as far back as the movie tie-in titles of the pre-Nintendo era, if not further. Still, if there's anything I expected to see on Steam's "coming soon page" early this morning, it wasn't I Love You Colonel Sanders! Even then, I assumed (naturally, I'd like to think) that this was a hastily-made fan game that made it past Steam's approval process ahead of an incoming intellectual property lawsuit.
Nope. According to the developer and publisher information on the game's Steam page, I Love You, Colonel Sanders! is the creation of American advertising agency Psyop and is set to be published through the KFC brand. KFC confirmed the veracity of the collaborative effort through its KFC Gaming Twitter page, which is also something that apparently exists (and has since 2018).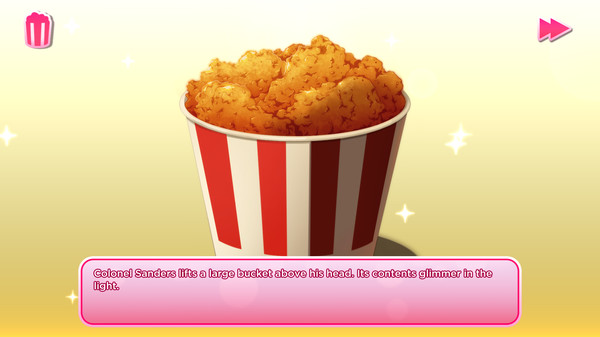 The game's Steam listing describes (and pictures) an anime-style dating simulator wherein you play a culinary school classmate of the Colonel himself on a mission to woo the goatteed, white suit-clad Kentucky Colonel. The description goes on to describe a journey filled with "life-changing decisions that will affect your chances of friendship and love", warning that "choices have real consequences with real animated characters' feelings at stake".
While not necessarily expected, the game's anime style could be partially inspired by KFC's particular brand salience in Japan, where the company has managed to cultivate a strong holiday tradition.
I Love You Colonel Sanders! currently does not have a listed release date, but will be available on PC and can be found on the Steam Store page.