Yesterday, Steam revealed its lists of the year's most played and purchased games. Broken up by magnitude (Valve uses "platinum", "gold", "silver", and "bronze"), the lists give us some idea of what games have found the most success on Steam this year, but games within each magnitudinal category are presented in a random order that changes with every page refresh, so we're still left unable to determine just how well each title has done. Additionally, while the lists are presented nicely, the data behind them is also unavailable, so we'll just have to trust Steam on this one.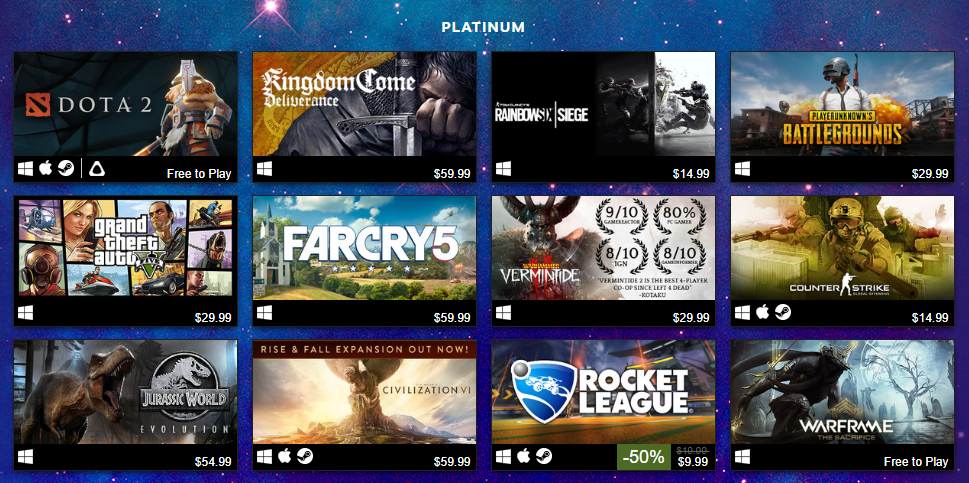 MOST PURCHASED
The platform's twelve most purchased games (denoted here as the "Platinum" titles) are mostly without surprise. Playerunknown's Battlegrounds, the harbinger of the rush to Battle Royale Games, is a predictable member of the platinum club, as are recent multiplayer juggernauts Rainbow Six: Siege and Rocket League. Grand Theft Auto V, and Counter Strike: Global Offensive prove their staying power, taking places on the list nearly five and six years after their 2012 and 2013 release dates. A year after its release, Civilization VI makes the list, arguably attributable to its recent Rise and Fall expansion. Not without 2017-2018 releases, the gritty Warhammer: Vermintide II and medieval Kingdom Come: Deliverance claim spots on the list. While most of these titles come as no surprise to those with a finger on the pulse of PC gaming, I didn't expect to find Jurassic World Evolution among them, but it seems the dinosaur theme park-builder earned its place as well.
Also included among these ten are the free-to-play Warframe and DOTA 2, but Valve's lack of transparency makes it hard to tell whether we're looking at number of times downloaded or most money spent on each game; judging by downloads seems more logical, but it seems strange to include these in the "most purchased" category if no actual purchase took place.

MOST SIMULTANEOUS PLAYERS
This year's "most played" metric doesn't focus on number of players in general, but instead the most simultaneous players achieved. Going further, the games are broken up into four groups, and while Steam lists the top six as having hit "over 100,000 simultaneous players", there's no given indication as to just how many players each individual game has reached. That's a bit of a nit-pick, though, given that Steam does publish player statistics elsewhere on the client.
A list with no surprises, Steam's six most populous games (by Valve's metric and in no particular order) are Playerunknown's Battlegrounds, DOTA 2, Grand Theft Auto V, Counter Strike: Global Offensive, Warframe, and Rainbow Six: Siege.
Beyond most purchased and most played, Steam's look at "The Best of 2018 (so far)" also includes a list of the top new releases for each month and the top selling VR games on the platform. As with the other lists, the titles are categorized by general magnitude, but presented in no particular order.
Check out the lists here.